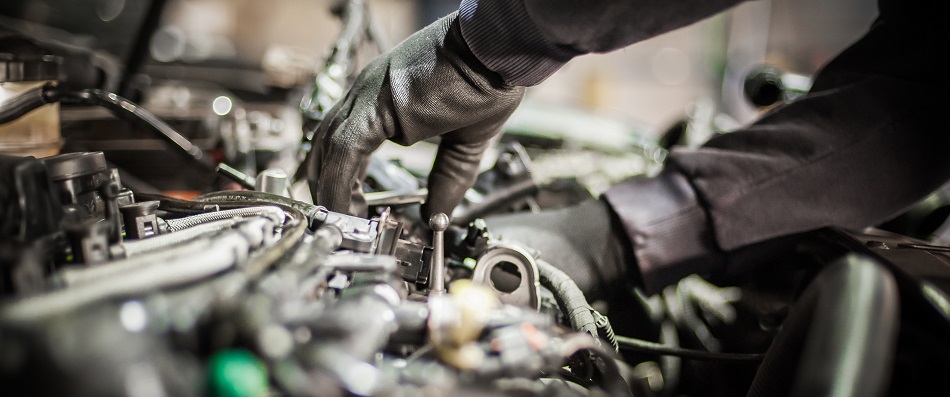 Exhaust Repair in Temecula & Murrieta, CA
How does my car's exhaust work?
When your car is running, thousands of explosions occur every minute. These explosions produce leftover gases that can be harmful to your health. The chemicals in gases include carbon dioxide, carbon monoxide, nitrogen oxides, and hydrocarbons. These gases need to be routed away from the engine compartment so they don't get into the cabin, and then into your lungs. Your exhaust system is responsible for this. Redhawk Auto Service is great at diagnosing exhaust system issues and we can repair your issues efficiently.
The exhaust system starts with the exhaust manifold, that connects the engine to the rest of the exhaust system. On one side of the manifold are individual tubes that connect to each of the engine cylinders. They merge together in the manifold and come out of the other side in a single tube. The oxygen sensor is usually located in the exhaust manifold and measures how much oxygen is in the waste gases. This is important because your engine mixes fuel with fresh air to produce air for your vehicle to move. To reach the ideal fresh air to fuel ratio, the engine control unit analyzes the oxygen amount the oxygen sensor provides and ensures the proper amount of fuel needed to maintain this ratio. The catalytic converter cleans up the harmful gases produced in the engine. The converter breaks down the nitrogen oxides into nitrogen and oxygen. This greatly reduces the emissions produced by your car.
Your vehicle's exhaust system also works to reduce noise. The mufflers in your auto exhaust system muffle the sound waves that are produced inside, routing the sound waves through tubes and chambers inside the muffler. Considering how important your vehicle's exhaust system is, you need a trustworthy auto repair shop to take care of it. If you are in Winchester, California, Temecula, California, Murrieta, California, Anza, California, or Aguanga, California, that shop is Redhawk Auto Service.
How do I know if my vehicle needs an exhaust repair?
Whether you're looking into exhaust repair for your Acura, Alfa Romeo, Audi, BMW or something else, the symptoms of bad car exhaust are the same. The following are some signs that your car needs an exhaust repair:
Overly noisy engine - If you have a faulty exhaust manifold gasket, it will cause an exhaust leak that sounds like a hissing or tapping sound. The sound is especially loud during a cold start or when you accelerate the vehicle.
Decreased power and acceleration - If it takes more effort than usual to accelerate your car, there is likely a problem with your exhaust system. If you are experiencing this, it is a good idea to take your vehicle to Redhawk Auto Service so we can take a look.
Decreased fuel efficiency - Along with decreased acceleration, if you are getting less mileage from your vehicle than before, there may be a problem with your exhaust system.
Burning smell from the engine bay - If your exhaust system leaks into your car's engine wires or any parts under the hood that are made of plastic, the heat from the exhaust gases could cause these parts to burn. This causes a burning smell and even smoke coming out of your vehicle. It is imperative that you bring your vehicle in for repairs to Redhawk Auto Service in Temecula & Murrieta as soon as a burning smell is noticed.
Hanging exhaust pipe - If any part of the exhaust pipe breaks and is hanging or dragging out of your vehicle, take your vehicle in for repairs immediately.
Gas smell - If you smell gas inside your car while you are driving, it is usually caused by one of the exhaust pipes or tubes gets damaged and starts to leak.
Your exhaust system is integral to a safe driving experience, so when the time comes to get it repaired, you can bring your vehicle to Redhawk Auto Service. Serving residents of Riverside and beyond, our number one goal is to provide high-quality customer service and repair services to every customer, every day. In addition to exhaust repair, we also offer services in Diesel repair.
Your Reliable Shop for Exhaust Repair
If you are having an issue with your exhaust system, Redhawk Auto Service in Temecula & Murrieta is your place to go. Our owner Tom Grady and a team of Quality technicians have decades of experience and are experts in all things auto repair, including Diagnostics, and exhaust repair.
Reasons You Should Do Business With Us:
Convenience
Excellence
Value
We are Experts
Years of Experience
If you are in the Temecula & Murrieta area or nearby, don't hesitate to schedule an appointment with Redhawk Auto Service, either online at https://redhawkauto.com/ or via phone at 951-303-9888. Redhawk Auto Service - Always Emphasizes Excellence, Value, And Convenience.